Austin Property Management Blog
System - Tuesday, June 26, 2018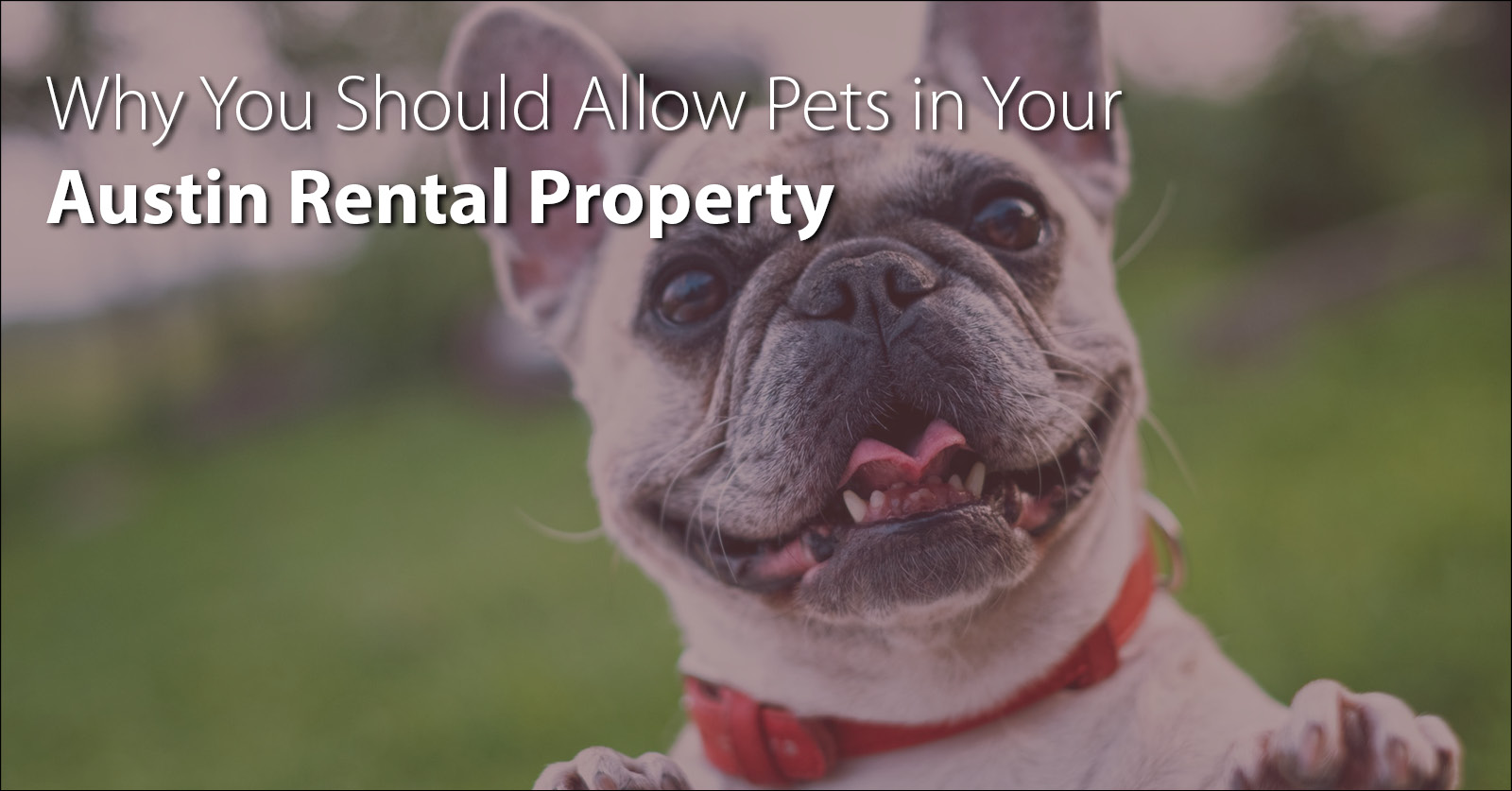 If you own or are considering purchasing a rental property in Austin, Texas there will come a time when you have to decide to either allow or not allow pets to live in the property with your tenants. This decision can be an important one. Yes they can cause damage, but so can tenants and they are what makes your property profitable. In cities like Austin where the majority of businesses are considered 'pet-friendly', not allowing pets in your property can harm you in many areas of owning a rental property.
Here are some benefits of allowing tenants to have pets in your Austin, Texas rental home:
More Money
The rent money that comes in every single month is what makes this all worth it, and increasing this number is always a priority of you, the owner. Sure, a typical renewal will come with a standard 2% increase to rent amount every single year, but allowing pets is a sure fire way to increase your rental rate right now.
With the inclusion of pets at your property this will allow you to collect a pet deposit and pet rent. Even at $30/mo, this pet rent could add up to $360 in extra income every single year!
Larger Tenant Pool
Allowing tenants with pets in your property plays a huge role in expanding the pool of potential tenants for your property. The more potential tenants your property has the faster it leases which means the faster you start earning passive income from your rental property. In fact, according to a survey more than 75% of renters own a pet. The majority of these renters report that they struggle to find pet-friendly rental homes. In a city of renters like Austin, your home will be a beacon of light to pet owners looking for a place to rent!
Increase Renewals
Across the nation vacancy rates are down, which creates competition amongst properties for rent-paying tenants. Tack this on top of the low number of pet-friendly rentals and your pet owning renter will be more likely to renew with your property once their lease term is up. Turnover from tenants and vacancy can turn your profitable investment into a money pit. In fact, according to FIREPAW, INC, tenants with pets stay in a property an average of 8 months longer!
Maybe now you're considering allowing pets in your Austin rental, or maybe you just don't believe us about how pet-friendly Austin is. One trip to Zilker Park on Saturday will change your mind! If you'd like to start accepting pets it's great idea to have a pet policy that's clearly and concisely written in your lease agreement. It will provide the foundation for charging more rent for pets, collecting pet fees and anything pertinent to your tenant's furry friend.
Talk to a Austin property manager today to speak with someone about allowing pets in your rental property!
---
Showing 61- 70 of 137