October 2023 Austin, Texas Real Estate Market Update
The real estate sales market has swung significantly over the last year as interest rates have risen, and that is having a clear impact on the leasing market as well. A large quantity of multifamily developments has been coming online and is making a large impact on the supply/demand dynamic of the market. For a little more insight please watch the video our Broker, Jason Huval, put together a market update a couple of weeks ago here.
HVAC Repairs
We're out of the hottest part of the year, but some are still reeling from the lack of repairs during the heat. A Texas judge has recently ruled that some renters can sue over AC issues. The state legislature has considered bills to address delayed AC repairs, and Austin is one place where they are considering putting requirements in place to make sure tenants aren't left without AC for long stretches in the hottest parts of the year. As professional property managers, we stay on top of these issues to make sure your properties are in compliance. We also want your tenants to have a good experience and stay in the home as long as possible.
2023 Holiday Season Closures
You can find our updated holiday closing schedule at this link.
Solar Eclipse This Past Weekend & One Still to Take Place
This past Saturday an Annular Solar Eclipse took place and passed just South of San Antonio. Below you can see an image captured of the eclipse through the clouds. Stone Oak passed solar eclipse glasses out to tenants as part of their move-in welcome gift and made them available for pickup to help them and our clients prepare for viewing this event.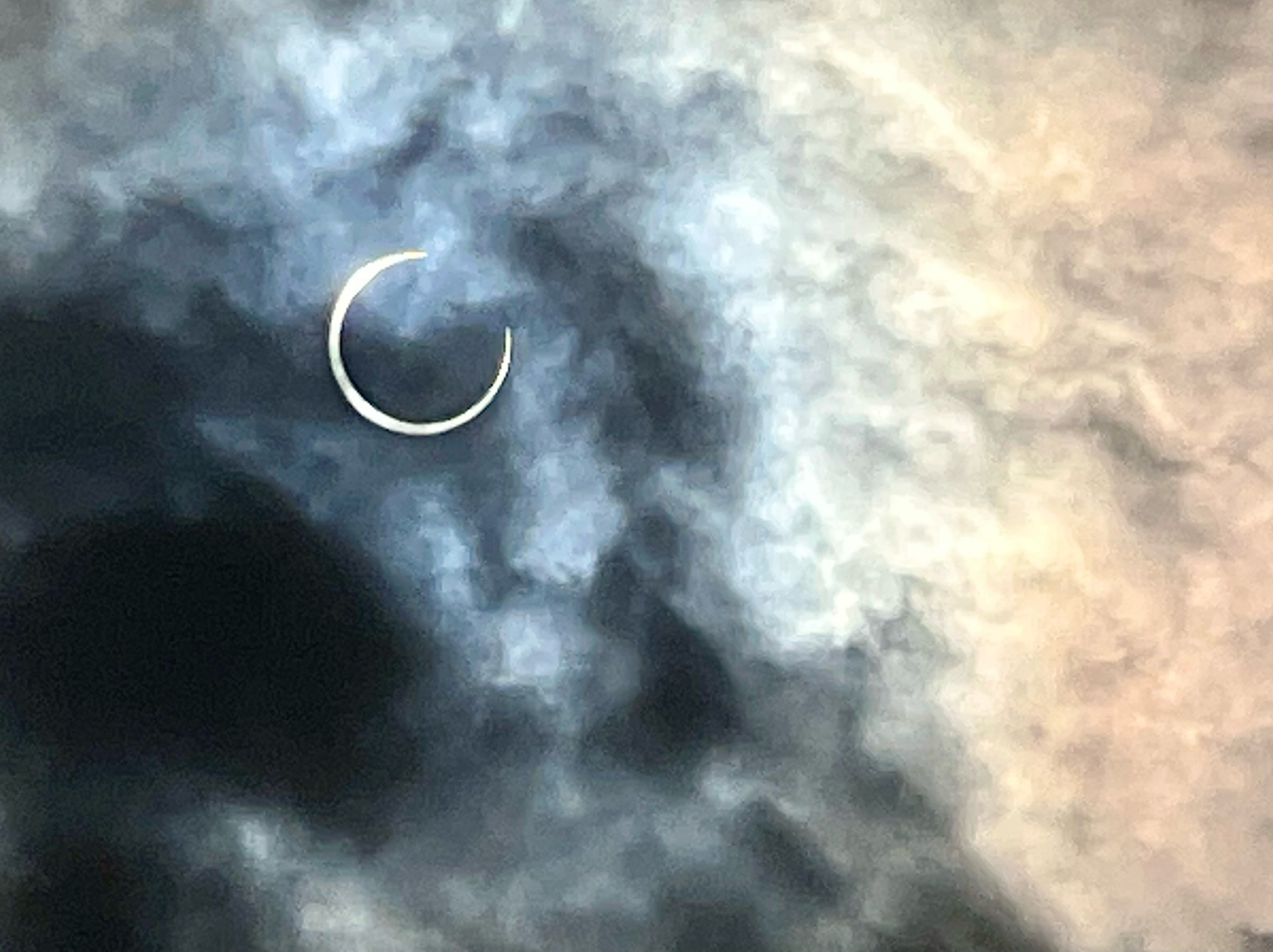 There is still another eclipse scheduled to take place in the upcoming months. In April 2024 there will be a full solar eclipse, and here is a link to the event info and path. If you're going to try to watch then we strongly suggest going to a location as close to the center of the path as possible to enjoy the best, and longest view. Make sure to track the weather around that time to see where the best place to go will be for clear skies. Here is another link to some info about these events, and there is a lot of info out there as Central Texas gears up for the next major eclipse. Our understanding is that after April 2024 the next full eclipse visible in the US is in 20 years, so you don't want to miss this if possible!
If you're interested in getting some glasses for the next solar eclipse in April 2024, please check in with your property manager so we can arrange for you to pick some up.
Normal Wear and Tear
We have spoken to many of you during the move-out process about what is and is not considered normal wear and tear. Recently, the American Apartment Owners Association published an article that discusses this in-depth and is very informative. You can find that article here if you'd like to learn more.
Scams Everywhere!
We just want to remind you that we will never call you to ask for your bank info, social security number, or other personal information on the phone or by email. We will also never ask you to pay for anything with gift cards, cryptocurrency, etc. All of our emails will come from our domain, www.stoneoakmgmt.com, or through our software as a long string of letters/numbers from the domain @stoneoak.mailer.appfolio.us. Our property management software includes a texting service that will not match our office number, but if you try to call that number it will go directly to our main office phone line.
Here is some helpful information about Caller ID Spoofing, and other common scams. Here is a recent posting from Chase Bank about other common scams that are good to be aware of.
Please stay vigilant, maintain a healthy amount of skepticism, and contact us directly with the number on our website or our direct emails if anything looks questionable.
HOA Compliance Notices
Did you know your HOA can send important notices and compliance letters directly to Stone Oak to enforce? Yes! We can take care of that for you! Please be sure to provide your HOA with Stone Oaks' direct contact information so we can ensure the timely delivery of notices.
Please contact your property manager for more information.
Thank you for being a client of Stone Oak Property Management. Please don't hesitate to contact your property manager should you need anything at this time.
Reminders:
Maintenance Approval Process Changes
In addition to the info below about funding repairs, we want to notify all owners that we are modifying our escalation process when we can't reach our clients in order to make sure we are complying with property code requirements. In bonafide emergencies, we are acting within our authority to mitigate damages, however after it has been contained or in non-emergency situations we reach out to our clients for work authorization that is required above the limit set in the management agreement. In those cases, we now have a strict process going into effect that will have a time-based escalation if we cannot reach you. The time frame will be that if we can't reach you by the 3rd day from when we first reached out we will then reach out to your emergency contact who can aid us in getting authorization or contacting you. If you'd like to update your emergency contact we have on file please contact your property manager. Keep in mind that this contact should be someone outside of your immediate household who you trust to make decisions on your behalf if you cannot be reached by them or us.
Funding Make-Readies & Maintenance for Your Property
Please note that it is Stone Oak's policy that the owner has reserve funding on hand with Stone Oak to help us commence work faster when it comes to make-readies and maintenance on your property. Stone Oak cannot perform maintenance without first receiving authorization and funding, which can slow down the turn-around times of our vendors and their availability in this market. This can also potentially create a negative experience that tenants will remember when it comes time to renew, and we always want to avoid turning over the tenants. Any time we request authorization for work on your property, the best practice is to immediately fund your account when you provide written authorization to move forward. This is as simple as going into your owner portal and using ACH for a free transfer, or if you prefer a credit card the processor charges a fee as part of the transaction.
Keep in mind that tenant charges on your account are not considered an offset to this amount as we keep a strict accounting system for both our and our client's benefits. Any tenant chargeable items will be posted to their account, and once they are paid it is immediately credited to your account. If you have any questions about this reserve amount held with Stone Oak please contact your property manager.