Whether you own a portfolio of rental properties, a single unit or you're thinking about investing in rental properties you may have looked into the operational side of things and have been considering hiring an Austin property management company to handle your property(s).
If you own properties already you may have considered a property manager in the past or may have even worked with one, but if you're new to investing in Austin real estate you still may be weighing the benefits of hiring a property manager to manage your property. After all, a rental property is an investment vehicle and everyone, regardless of industry, should be looking to make their investments do more for them.
It's popular for new real estate investors wanting to acquire a rental property in the Austin area to think that real estate is this passive, headache-free investment that will net them serious profit for years to come. Some feel that once you place tenant things get easier from there and you collect your passive rental income. If only that were true..
The truth is, once a property has a tenant things become more hands-on for rental property owners. Prior to having tenants living in your property, you only had to worry about what you thought about it and your goal was to find a tenant to live there. Now that you have someone living there things get much "louder" and hands-on. Are you ready to answer the phone at 3 am due to your tenants busting a pipe and needing you to act right away? If not, you should consider working with an Austin property management company.
So, what does an Austin property management company do for rental property owners & investors?
An excellent Austin property manager will handle nearly all of the details and day-to-day for your rental property. This encompasses everything from marketing & finding tenants to live in your home to collecting rent and performing maintenance on the home. Bear in mind that not all Austin property management contracts are the same and not all Austin property managers are equal. Regardless, some of the basic duties you should expect from an Austin property management company are:
Setting the Correct Rent Rate for Your Austin Area Rental Home
Your property manager should be familiar with the neighborhood in which your rental property is located. This is key, as your property manager will be tasked with researching comparable properties to your home in the area and determining the max your rental property can receive in monthly rent. A variety of different factors play into how much you can earn every month aside from just where your located, such as:
There can be other factors at play and your property manager should let you know if they can think of anything once they walk the property with you for the first time. Determining an accurate rental rate is important and will set the stage for your rental property's financial health and your investment margins going forward. Your Austin property manager should review your property before they list it for rent so you will have input on what your property is listed at. Just know that a lot of times property owners and investors can expect unrealistic amounts in rent that the market won't support. Your best bet is to partner with a property management company that sticks to the data that the market provides.
You can learn how much your Austin rental property can earn in monthly rent by requesting a CMA packet from Stone Oak Property Management.

Your Property Manager Will Ensure Your Property Meets the Guidelines Set Forth in the Texas Property Code
Upon first inspection, your property manager should be eye-balling your property and looking for anything that goes against the guidelines set forth in the Texas Property Code. Some common mistakes that go against Texas Property Code we run across when meeting with new clients at their rental property(s) are:
Rental property owners are required to provide keyless deadbolts on all exterior doors of the property.

Any sliding glass doors on the property must have a bar or pin lock that prevents them from being slid open.

Smoke alarms must be present in all bedrooms and common areas of the home.

Exterior doors must have a window or peephole for the occupants to view outside.



These are some common errors we run across on our initial inspection of rental properties in the Austin, Texas area. You'll want to make sure you partner with an Austin property management company that has the experience and a full understanding of the Texas Property Code so you don't face any issues down the road.
Marketing & Leasing Your Austin Area Rental Property
Your property manager should know, to a reasonable degree, how fast they should be able to find a tenant for your rental property. For example, Stone Oak's rental properties average a total of 23 days on the market over the last 6 months. This is achieved via a combination of offline and online marketing practices that provide the best exposure for your rental home to the most qualified pool of tenants. Good marketing starts with great photos, so if your property manager shows up with a camera phone they are doing you a disservice.
Another thing to ask if the property manager is a part of the local MLS systems, ABOR or WCAOR in Williamson County. If not, your property won't be listed on the MLS and will be at an extreme disadvantage when trying to find tenants or to even give tenants the ability to view the property.
Transparency in the leasing process is important. While some property managers will provide you with periodic updates here and there, some have robust systems that keep you in the know every step of the way! If you've ever ordered a pizza from Domino's Pizza you'll know they have a tool that lets you know where your pizza is, from the moment you order your pizza to it leaving the oven and arriving at your door. Our property management company is happy to provide a similar tool via our technology partners. With Stone Oak Property Management, you'll know exactly where your property is in the leasing process.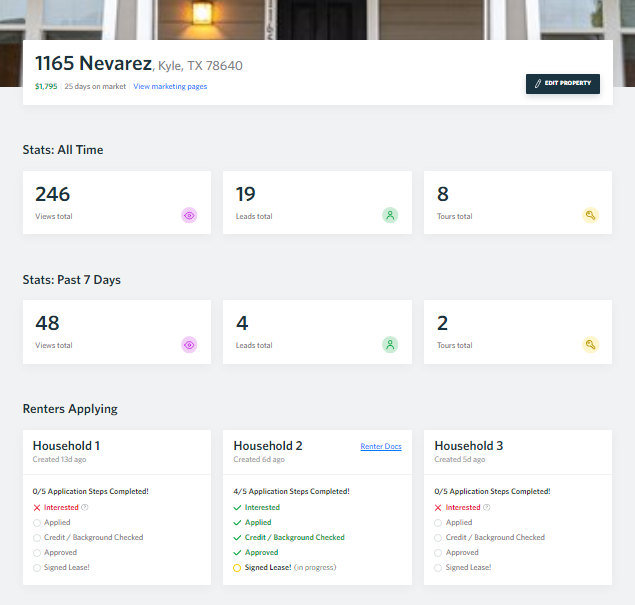 The screenshot above is an example of the type of system owners are provided with for their property when Stone Oak Property Management is leasing the home. Owners are kept in the loop throughout the leasing process and are able to check the status of their property at any time by logging in to the portal provided to them! Renters can provide feedback that shows up directly for you and your property manager to review.
Find and Placing *Quality* Tenants
We want to emphasize the term 'quality' here, because some Austin property managers see it as their job to find a tenant as quickly as possible and place them in your rental property, regardless of any red flags that might come up. That is the wrong approach to finding tenants for your Austin rental property and can cause major headaches for you, the owner, down the road. The Austin property management company you choose to manage your rental property should have strict criteria set forth and should hold all tenants to that same standard.
Be very wary of any company that wants to place the first tenant that applies regardless of credit score or any of the criteria that should be considered. With COVID-19 and the restrictions put in place for evictions, finding quality, rent-paying tenants is more important than ever right now to ensure your property's financial health. Be sure that any property manager you trust with your property has proper protocols and criteria in place to ensure you don't get stuck with a dud tenant or you may be forced to shell out hundreds, if not thousands, of dollars to go through the eviction process.
Managing Tenant Move-Outs & Evictions
Tenant move-outs are a crucial part of the process. When your previous tenant's move-out, your Austin property manager should walk the property to assess any damages or potential issues left behind by the tenant. Your property manager should be experienced in knowing what to look for so that all issues can be addressed and deducted from the tenant's deposit before you are legally required to give the money back.
It is important to find an Austin property management company that has a team in place for maintenance. Typically, they'll have better processes and systems in place to accurately detail the condition of your property and know what to look for going forward. Per the aforementioned Texas Property Code, you have 30 days to return a tenant's deposit with a full ledger accounting for any work done to the property that the cost would be deducted from their deposit. If your property manager doesn't act quickly or doesn't understand the importance of this time period, you can be left paying the tenant 3x the deposit in damages.
Your Austin property manager will also be your line of defense when it comes to evictions. Be sure to partner with a property manager who tries to work with tenants when issues arise, but also knows how to navigate the JP court system here in Texas. Swift action should be taken to remove any problem tenants before it starts to seriously affect you and your finances as the owner of the property!
At Stone Oak Property Management, our team is proficient with evictions and handling the Travis and Williamson County JP Courts. A division of our property management company has been set up to handle evictions for our clients as well as those we don't provide property management too. You can learn more about our team at Texas Tenant Evictions and how we handle evictions on our website.
Rent Collection & Managing Finances
Collecting rent from your tenants and disbursing that to you every month is a task performed by your property management company. This includes handling late payments, partial rent payments, & staying on top of tenants and other financial issues that can come up for tenant's. (Going back to placing *quality* tenants, this is why this it's important!).
Your property management company should make it as easy as possible for tenants to pay their rent. If they are still requiring checks to come into the office you should look at partnering with a property manager who is a little more tech-savvy. Your Austin property management company should provide your tenants with the ability to pay their rent from all of their electronic devices. The easier it is for tenants to pay their bill, the more likely they are to pay it!
Not only that, but owners (you!) should be provided with a portal that they can visit to review the finances on your property. You'll want to be sure you partner with an Austin property manager who operates with full transparency on your property and its finances or you leave yourself open to being taken advantage of! Austin property management companies that are transparent should provide an owner portal to you to log in at any time and check on your property's financial health.
Handling Maintenance for Your Rental Property
Your Austin property manager will be in charge of maintenance on your property, such as overseeing any landscaping crews that work on your home to overseeing any in-house maintenance that is required. Your property manager will serve as the tenant's point of contact for any maintenance issues so it's best to partner with a property manager who has the systems and operations in place to be available to your tenant 24/7. In regards to maintenance, if you're an out-of-state investor who owns properties in Austin a property manager will be a huge asset to you when it comes to maintaining your home and ensuring the health of your investment property!
Over time your property manager will also direct you on upgrades and remodels to consider to improve your Austin area rental home! Asking potential property managers about their maintenance handling and the team and systems they have in place is important. They will be the frontline of defense for your property should any issues arise so make sure you trust them!
An Austin property manager that treats your rental property as their own can be worth their weight in gold. While you have no shortage of options, you'll want to make sure you fully vet any property managers to make sure they handle the things you need to be done for your rental property at the very least.
All property management companies in Austin will be run differently but the basic tasks they provide shouldn't defer much. Keep in mind that your property manager is essentially a direct extension of you and your rental property business. While there are discount property management companies across Austin, you'll want to be wary of their practices and their incentive to act fast when it comes to any issues that arise with your rental property. If you're going with the cheapest option you might be doing more harm to your property than good.
If you have any questions regarding Austin property management services or what to expect from a property manager you hire, please don't hesitate to contact our team at Stone Oak Property Management.