We are only three months in and 2020 is shaping up to be quite the year. With the current COVID-19 pandemic in full swing the markets have taken a huge downturn in recent months and it's beginning to affect everything from toilet paper sales, tourism, the real estate market and practically every industry across the globe.
Which leads us to the question - Which is a better investment in an economic downturn, a short-term rental property or a long-term rental home?
Short-Term Rental Properties in Austin, Texas
In light of COVID-19, several businesses have had to adapt or close overnight and companies like AirBNB or VRBO are not immune to the impact. In nearly every part of the world, AirBNB markets are drying up overnight. Owners have experienced a sharp cancellation of reservations and properties are beginning to sit for long periods of time with no end in sight. Well-renowned events such as South by Southwest (SXSW) here in Austin, which serve as pillars of the community, have been canceled and AirBNB owners faced the harsh realities of that decision. In January, Austin had 5,188 short-term rentals posted across all short-term rental sites. Now, just two months later, the short-term rental market has more than 9,200 active listings. The chart below shows a comparison of revenues in the Austin short-term market in March 2019 and projected revenues for March 2020, which are still subject to decrease depending on how AirBNB and hosts handle refunds in this market.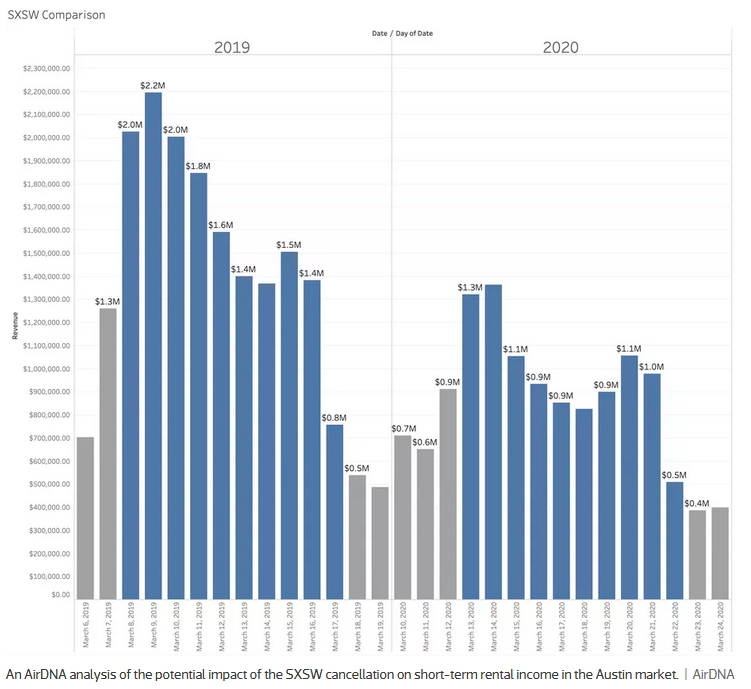 With recent developments across the country and with many cities, counties and even some states going into lockdown to fight the COVID-19 pandemic there's no end in sight to the slow down in Tourism to Austin, Texas or even the entire world. With hotels seemingly on the verge of collapse, one can read the "writing on the wall" that the short-term rental markets are going to be further impacted.
If you're an owner who has a portfolio of properties in the Austin, Texas area that you fill using AirBNB, VRBO or any other short-term rental site you may find yourself with a portfolio of empty rental units at this time. With Austin authorities announcing a 'shelter-in-place' effective at midnight tonight (Tuesday, March 24th), there doesn't seem to be an end to all of this craziness in sight. This could be bad news for short-term rental owners who have seen their revenue sources disappear seemingly overnight.
Long-Term Rental Properties in Austin, Texas
While tourism does affect long-term rental homes it does so in different fashion. Tenants in a long-term accommodation typically call Austin home and are local to the area. While they may be directly affected by an economic downturn via layoffs or other factors, your property isn't directly affected by a drop in tourism in the Austin, Texas area. Instead, your property would be indirectly affected by this recession through a loss of the tenant's income, etc.
We advise any and all owners we speak to about their property to be strict on their criteria for accepting new tenants into their rental homes. While some things are unavoidable, a thorough screening process that tackles all of the necessities for determining if a tenant is a reliable occupant is key for your property in times of economic abnormality. The more you "vet" potential applicants on their financial history, occupational status, the more likely you are to find a higher quality tenant and increase the security of your rental investment.
It's worth noting that if you decide to convert your short-term rental property into a long-term rental you open yourself up to different options for tenants. For example, you can choose to accept Section 8 tenants in your property. Depending on your property's location and price this could be a great recession deterrent as your tenants rents are paid by the government. No such program exists for short-term rentals. Here is an interesting article posted just days ago about the benefits of Section 8 for your properties.
While both investment opportunities are at their weakest during times of economic downturn, short-term rentals are subject to more market variables than long-term rental properties which places them at a higher risk. It's in times like these where a solid tenant can make or break a property for a landlord. .
Can you convert your short-term rental into a long-term unit? Of course you can! We'd be happy to connect with you and discuss your property, goals and how that transition would take place. For more information about converting your short-term rental property to a long-term rental, please don't hesitate to contact our team of Austin property managers! We have turnkey solutions available to you.