Austin, Texas is a hotbed for real estate investing, and over the last couple of years, it has really taken off as a destination for investors to park their cash. Stone Oak regularly hears from individuals who are curious about getting started with real estate investing in Austin, Texas. Most people typically have the same questions coming into the Austin, Market so we took the time to throw together a checklist for buying a rental property in Austin, Texas.
Below you'll find a thorough guide for getting started investing in Austin, Texas rental properties:
Location of the property
Close to Shopping, Night Life, and the Social Happenings of Austin, Texas
There's no doubt that Austin, Texas has grown into one of the fastest-growing cities in America and seems to just keep growing year after year. With this growth comes renters and tenants seeking to take advantage of the social scene and nightlife that Austin provides.
Close to Employers in Austin, Texas
Part of Austin's blistering growth in the last few years is the number of employers relocating to the area as well as investing in growth for their companies. Some of Austin's largest employers are the following: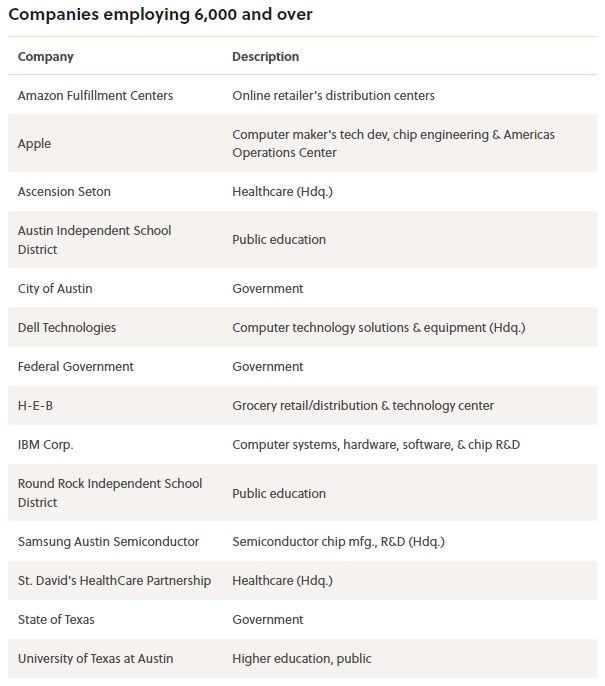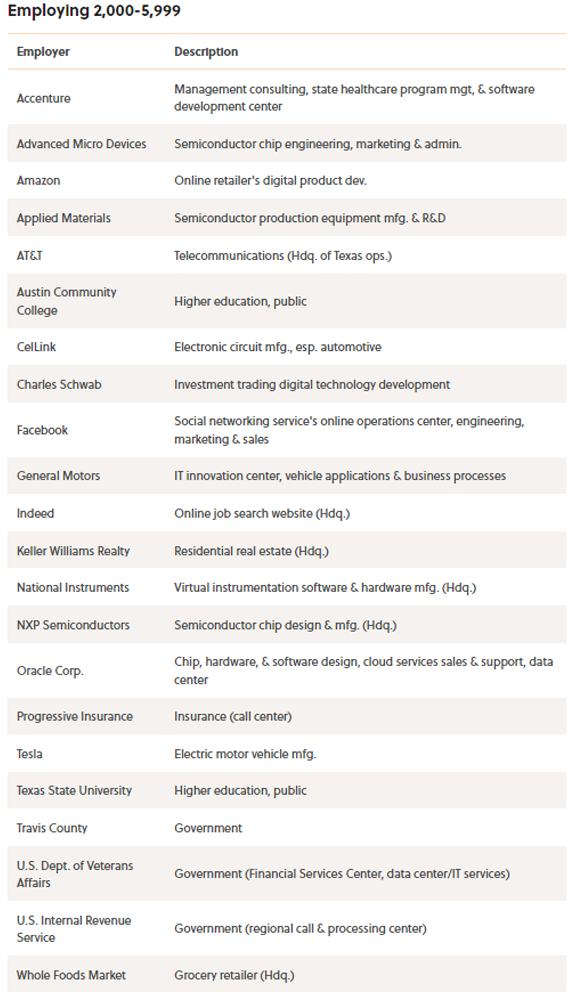 Data courtesy of the Austin Chamber of Commerce
With being the largest employers in the area, you can bet that the need for homes around these employer's locations will always be high. If you are able to purchase a rental close to the campus of one of these large tech companies, hospitals or government agencies you can rest assured that your rental home asset will perform well in Austin, Texas.
Locations with Ease of Access
If you've ever lived in, or maybe just visited Austin, you'll quickly realize we have a traffic problem. Depending on where you are at the beginning or end of the workday you may find yourself stuck in traffic. Targeting rental homes that have ease of access to major roads and the expanding rail lines in Austin can be a great selling point for potential tenants.
School Districts
Not all school districts in Austin, Texas are created equally. When searching for a single-family property investment to make, investors should be aware of what schools service the home's location and how that might affect any potential families that may be interested in renting the home.
A helpful tool investors can use in their search for a home based on its school district location are the boundary maps provided by Austin ISD, Round Rock ISD, Leander ISD, etc. Using these tools, investors can check which schools service the neighborhoods they are considering investing in and see how those schools compare to others in Austin based on ratings, etc.
Crime Stats in the Location
Another thing to keep in mind when purchasing a rental property in Austin, Texas is the crime statistics for the area. A handy tool for any investor looking into the area for a rental home is the Austin Crime Map.
The Finances & Cost of Owning a Rental Property in Austin, Texas
As an investor looking to purchase a cash flow property, you need to understand the finances on your rental home in Austin, Texas thoroughly. The goal of your investment should be to make money, whether that's generated via monthly cash flow or appreciation of homes in Austin, or both. If you can pay cash, great, if not though you will want to make sure you completely understand the costs associated with this asset. Some costs to keep in mind are:
Your Mortgage Payment Every Month

Any Fees Associated with Leasing the Home and Paying Commissions If Needed.

Maintenance Upkeep & Repair Costs
For every rental property you look at for purchase in Austin, Texas you will want to be able to use the above factors to find your true cost of ownership and what it will take, money-wise, for you to own this home.
Estimated Cap Rate & Return on Investment
Knowing the above financial information can help you understand your cap rate for a rental home acquisition you may be considering. Your cap rate, or capitalization rate, is the ratio of net operating income to your rental home's value. If you purchased a home for $250,000 and were able to Net $2,500 a month over the course of a year, your cap rate for this property would be 12%. This would be a really good investment to make and if things stayed the same it would take you just over 8 years for your asset to make your initial investment back. Generally, anywhere from 4% to 10% is considered a good cap rate for a rental property. This fluctuates based on interest rates, market returns, etc., but is a different type of investment and is a key asset when diversifying a portfolio.
This also isn't factoring in the appreciation your Austin, TX rental property would see. Homes in Austin seemingly become more and more expensive every year and after the 8 years it would take to return your investment on cap rate, your rental home's value should experience growth as well. This can all be dependent on market conditions at the time of sale if you did, but the equity built up in the home alongside this should have any investor in great financial shape after a few years here in Austin, Texas.
Know the Law & Property Code
Knowing the property code and abiding by it with your rental property is a big part of being a landlord. Each state has its own code and becoming knowledgeable about it will ensure you don't run into any problems down the road.
Landlords in Austin, Texas, or anywhere in Texas for that matter, can review the Texas Property Code at any time online. This will go over the entirety of the laws you must follow as a landlord, including tenant deposits and much more.
In addition to the Property Code, it's important to know County and City laws and regulations related to being a landlord. These can make the law much harder to comply with if you're not familiar.
If you hire a property manager to handle your rental home, you should make sure that they follow the law when managing your rental home. Having a property manager who is knowledgeable about the property code and what it entails can save you studying and major headaches in the future.
HOA's and How They Affect Your Rental Property
Home Owner's Associations are prevalent in Austin, Texas. Chances are if you're looking at a couple of investment properties to acquire, some will be in an area where there is an HOA.
HOAs can be a tough sell to any investor depending on the types of restrictions they put forth on your home. Since you're acquiring this property as an investment, you won't always be around to ensure your property is meeting all of the HOA guidelines. They are not always tenant-friendly. The idea of an HOA is to uphold standards for the community, but not all are created equal. Sometimes you can have an HOA board that is anti-tenant and makes your life difficult serving notice for every small item the tenant may do that isn't to code.
Understanding your HOA's bylaws or having a property manager who does it for you is vital to owning a rental property in Austin, Texas.
Your Rental Home's Amenities
Amenities in a home can range from outdated appliances to new smart appliances. Which is better for a rental property?
Believe it or not, 'smart appliances' can become a nuisance for you as a landlord in Austin, Texas. Your tenants may not understand the tech when they move in and you or your property manager could be constantly troubleshooting any issue that comes up. Another example is having ceiling fans controlled by remotes. How long do you think those will last with a tenant living there? It may not be long before a replacement is needed because they stop working, are lost, or are coded the same as a neighboring property and require a maintenance call to reprogram.
When it comes to things like washers, dryers & refrigerators there's only one that's required - the fridge. Although a washer and dryer aren't required, they can make your property seem more desirable to tenants compared to properties that don't offer such an amenity.
If your investment property is also a part of an HOA in Austin, there's a good chance you may have a community swimming pool, etc. These can be sold as a benefit to potential renters!
One of the bigger mistakes we see as an Austin property management company is owners thinking small amenities can raise the price of rent on their home in a big way. While they are nice, overpricing your rental can leave your property sitting on the market while comparable properties move faster. An easy way to learn how much you should be charging for rent in Austin, Texas is by running a comparative market analysis. For those interested, Stone Oak offers free market analysis for your rental property in Austin, Texas, and the surrounding area.
Buying a rental property in Austin, Texas can be a daunting task with the amount of competition you have. Using this post as a guideline is a great start but it's always best to consult an agent or Austin property management company to learn more about the process and what to look for in your future investment property.
The market is cooling off right now, so the opportunities to invest are surely out there!