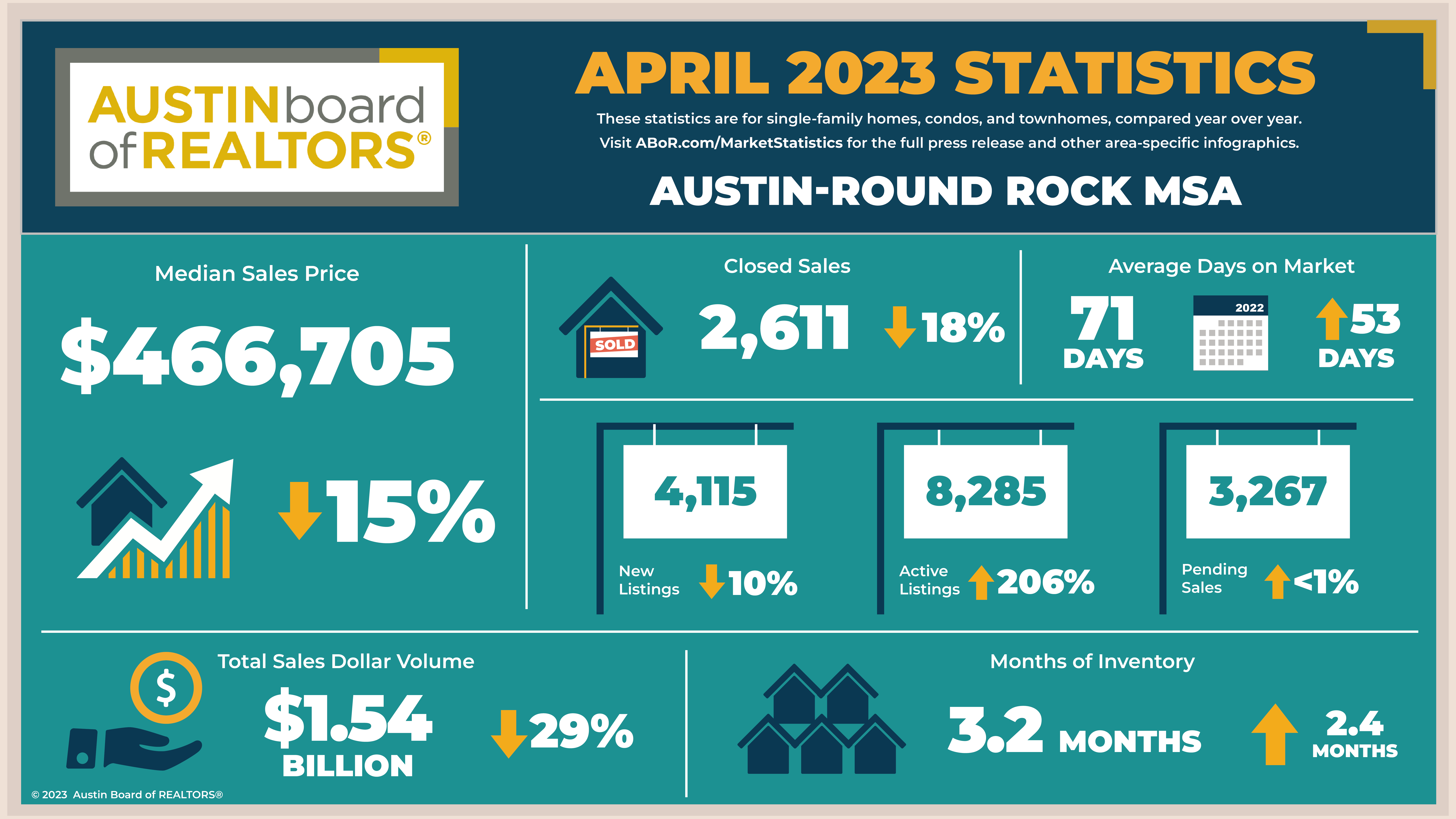 Austin, Texas Leasing Market Update
As we move further into 2023, Greater Austin's real estate market has seen some pretty significant shifts in pricing, inventory, and more. Above you will see the April 2023 market stats released from the Austin Board of Realtors.
Median price falling, # of closings falling, days on the market up with 'Months of Inventory' slowly growing, as well as new listings being down 10%. What does it all mean?
A slowdown is upon the Austin, Texas real estate market.
ABOR's stats typically only focus on the sales market and aren't focused solely on the leasing market. We must look elsewhere to see how the to rental market in Austin is being affected. Using data from apartmentdata.com, we are able to see the same slowing down effect taking place in the rental market.

After a peak just after the beginning of 2023, you can see the dip on the chart signifying a drop in average price for rental listings across Greater Austin, Texas. According to ApartmentData.com, the drop correlates with an increase in the amount of apartment buildings under construction in Austin. This construction is taking place at the same time that we are experiencing a 3% drop in vacancy in units when compared YOY.
This data signifies that renters could be cutting back on spending when it comes to their living situation and speaks to a much larger financial issue happening on a nationwide level.
After months of financial turmoil with growing inflation and FED rate hikes, the real estate markets do seem to be slowing down after years of explosive growth. For more information about this slow in the Austin rental market you can read this article from KUT90.5.
Real Estate Scams on the Rise
We just want to remind you that we will never call you to ask for your bank info, social security number, or other personal information on the phone or by email. We will also never ask you to pay for anything with gift cards, cryptocurrency, etc. All of our emails will come from our domain, www.stoneoakmgmt.com. Our property management software includes a texting service that will not match our office number, but if you try to call that number it will go directly to our main office phone line.
Please stay vigilant, maintain a healthy amount of skepticism, and contact us directly with the number on our website or our direct emails if anything looks questionable.
San Antonio Renter's Rights Resolution
In May 2023 the City of San Antonio approved a Resolution supporting Tenants' Rights and Responsibilities as part of a collaborative effort to raise awareness about fair housing laws, tenant protections afforded by existing local, state, and federal laws, as well as tenant and rental housing provider responsibilities. This Resolution also updated the Notice of Tenants' Rights, which rental housing providers are required to provide to tenants when delivering a Notice to Vacate for non-payment of rent.
While being specific to San Antonio it is always good to see things from the perspective of a tenant when owning a rental property. This document gives a good summary of what a tenant in Texas might come across when looking for info about their rights, responsibilities, and resources.
HOA Compliance Notices
Did you know your HOA can send important notices and compliance letters directly to Stone Oak to enforce? Yes! We can take care of that for you! Please be sure to provide your HOA with Stone Oaks direct contact information so we can ensure timely delivery of notices.
Please contact your PM for more information.
Vacant Properties Common Practices
First impressions make a huge difference as we all know. When a property is vacant a potential renter should always see a property at its best.
Lawn | Growing season is upon us and with your property being vacant, that means the lawn will need recurring lawn service. We will begin recurring lawn service during periods of vacancy to ensure your lawn gets the care and attention it needs. Vacant properties will be put on an automatic rotation for lawn maintenance to ensure your property is fresh and ready for the market.
Touch-Up Clean | Ensuring your property is Move In Ready - When we find your property has been on the market and has had a good amount of foot traffic, the floors are bound to get dirty! Bugs, leaves, dirt and other small debris love finding their way into vacant homes. To ensure newly leased properties are move-in ready, we will order a touch up clean to be completed to ensure new residents have the best move-in experience possible.
Believe it or not, when a new tenant walks into the home for the first time on their move-in date that first impression actually happens again. This time they're seeing it from a different perspective, and the condition of the home makes a huge impact on their first few weeks in the property. If the home is well kept it is usually smooth sailing, but if the home is not clean, there are hidden maintenance issues, etc. then they will start to notice every perceived flaw they can find and report it. This not only starts the tenant off on the wrong foot but also results in a more expensive turnover for the property owner. By doing simple things like maintaining the lawn and providing a touch-up cleaning the tenants are sure to have a better experience.
Nature Is Bringing Two Spectacular Shows to Central Texas
In October 2023 and April 2024 there will be two solar events that aren't to be missed. If you've never witnessed a solar eclipse then you should certainly make it a point to try to catch one, if not both of these.
In October there will be an annular solar eclipse, which is where the moon is slightly smaller than the sun thus creating a "ring of fire" at the peak of the event. This link provides more info about the October event along with a map of the path. In April 2024 there will be a full solar eclipse, and here is a link to the event info and path. If you're going to try to watch one or both of these we strongly suggest going to a location as close to the center of the path as possible to enjoy the best, and longest view. Make sure to track weather around that time to see where the best place to go will be for clear skies. Here is another link to some info about these events, and there is a lot of info out there as Central Texas gears up for these.
Both of these events will have peak viewing near Austin as long as the weather cooperates but the path is very long for both of them if you're in a different part of the US. Over the next several months we'll be providing solar eclipse viewing glasses to all new tenants as part of their move in welcome gift, and we're making them available for pickup to our current tenants and clients. If you're interested in getting some glasses please check in with your property manager so we can arrange for you to pick some up.
Reminders:
Maintenance Approval Process Changes
In addition to the info below about funding repairs, we want to notify all owners that we are modifying our escalation process when we can't reach our clients in order to make sure we are complying with property code requirements. In bonafide emergencies, we are acting within our authority to mitigate damages, however after it has been contained or in non-emergency situations we reach out to our clients for work authorization that is required above the limit set in the management agreement. In those cases, we now have a strict process going into effect that will have a time-based escalation if we cannot reach you. The time frame will be that if we can't reach you by the 3rd day from when we first reached out we will then reach out to your emergency contact who can aid us in getting authorization or contacting you. If you'd like to update the emergency contact we have on file please contact your property manager. Keep in mind that this contact should be someone outside of your immediate household who you trust to make decisions on your behalf if you cannot be reached by them or us.
Funding Make-Readies & Maintenance for Your Property
Please note that it is Stone Oak's policy that the owner has reserve funding on hand with Stone Oak to help us commence work faster when it comes to make-readies and maintenance on your property. Stone Oak cannot perform maintenance without first receiving authorization and funding, which can slow down the turn-around times of our vendors and their availability in this market. This can also potentially create a negative experience that tenants will remember when it comes time to renew, and we always want to avoid turning over the tenants. Any time we request authorization for work on your property, the best practice is to immediately fund your account when you provide written authorization to move forward. This is as simple as going into your owner portal and using ACH for a free transfer, or if you prefer a credit card the processor charges a fee as part of the transaction.
Keep in mind that tenant charges on your account are not considered an offset to this amount as we keep a strict accounting system for both our and our client's benefits. Any tenant chargeable items will be posted to their account, and once they are paid it is immediately credited to your account. If you have any questions about this reserve amount held with Stone Oak please contact your property manager.
Thank you for being a client of Stone Oak Property Management. Please don't hesitate to contact your property manager should you need anything at this time.