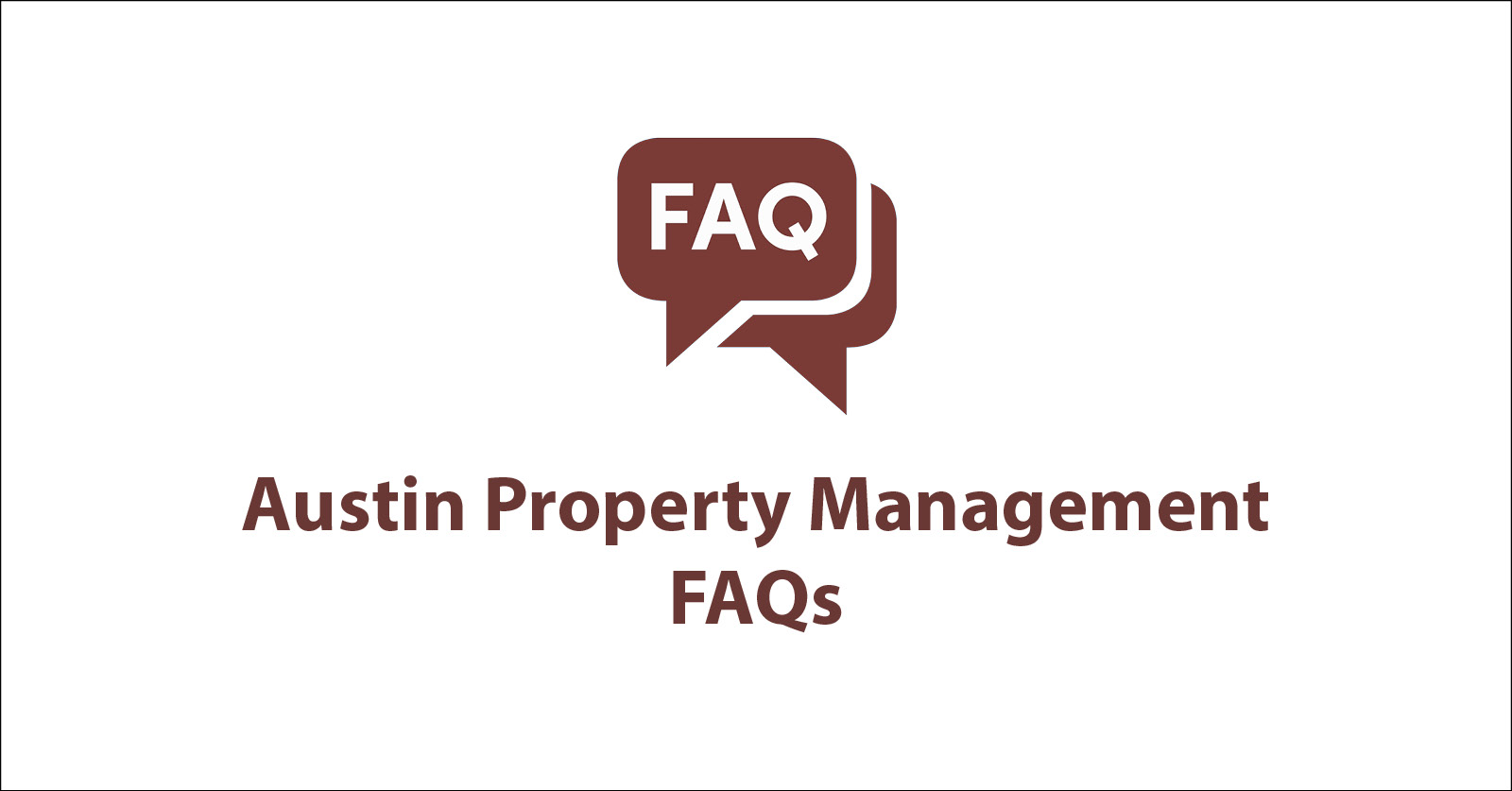 As the owner of rental property in Austin, Texas, you might be looking to hire a property management company to help you handle the day-to-day management. Each time we speak to owners who need property management services they always have specific questions regarding their property and what to expect from a property manager regarding leasing, management, procedures, and everything else that concerns your property.
Below we've compiled a list of the most common asked questions about Austin property management and what to expect with the service!
How is the advertising and marketing of my property handled?
Our firm's goal, like any others, is to expose your property to the largest qualified tenant pool. We take advantage of the local MLS and syndicate your listing to all of the major and minor real estate websites such as Zillow, Trulia, & much more! Each property is captured with professional photography and videos are made to showcase your property. We go beyond just the normal way to do it and utilize data to directly target tenants who fit your property!
How long does it take to lease my property?
Each firm might have a different answer to this question. With Stone Oak Management, our average vacancy lasts for about 22-28 days. In the summer months are times are much quicker as that's when the majority of people move, however, our owners enjoy quick times even during the 'slow season'.
How is the tenant screening process handled?
Tenant screening is handled thoroughly with Stone Oak Management. Our process includes credit, employment, criminal, and reference checks to ensure the most qualified tenant ends up in your property. Place qualified tenants with clean backgrounds is a priority of ours as it makes our lives easier throughout the duration of management.
Can I deny pets in my Austin rental property?
While pet owners are not a protected class, Austin is such a pet-friendly city that not allowing pets can hurt you in the long run. Plus, allowing pets in your property can bring in extra cash when factoring in pet rent and deposit. Alas, if you'd like to deny pets that is your decision and we will honor it!
How much will my property rent for?
The market is what determines the rental rate for your property. We'd be happy to do a free rental analysis for you and accurately determine what your property will rent for. Give us a call at 512.617.6766 and speak to a market expert!
Who collects the rent and handles the deposits for my property?
We will handle all of the finances for your property from collecting rent to storing the deposit in the appropriate escrow accounts. Each month we'll collect the finances and you'll see them direct deposited into your account with no hassles!
What happens when the tenant is late or doesn't pay rent?
If you're tenant is late on their rent then late fees will be assessed appropriately. The instant they go past the allotted time for paying rent we will automatically serve them a 3 day notice stating to pay or to vacate the property. While Stone Oak hasn't had to perform and eviction since 2016 we are well versed in handling them and can have your property reclaimed in no time and looking for a new tenant if needed.
How long is the contract between me and the property management company?
The industry standard is to lock you down to a contract with a year or longer duration. With Stone Oak Management, our agreements with every single owner we manage for is month-to-month. We give our owners the ability to cancel at anytime and set out to earn their business every single month.
How much do Austin property management services cost?
Typically, an Austin property management company will charge you a % of the monthly rent to handle the management of your properties. Some do a flat fee every single month. When you are asking this to multiple companies be sure to inquire about any fees as some flat fee managers will charge for little things. A company who doesn't charge enough will not be able to offer you a high level of service.
Will I know what is going on with my property?
Communication with your property manager should be easy and accessible. Our team at Stone Oak will build a rapport with your new tenants for each property and be a direct extension of you for them. Should anything come up with your property you'll always be quickly notified. In the event the ship is sailing smoothly you'll just be collecting money every single month with no hassles.
How will I pay my management fees?
After your property manager has collected your rent for the month they will deduct their portion from the rent and then direct deposit the rest into your account. You'll have online access to our owner portal so you can always track the finances of your property.
If there is an emergency will my tenants always be able to contact you?
Yes! We offer a 24 hour hotline to tenants so they can always get in contact with us no matter the situation.
Do you require owners to have a reserve on file for your company?
Yes, we require our owners to hold $300 in a reserve account with Stone Oak. Any repair or maintenance on your property that is under the $300 will automatically be done without consulting you. If the costs exceed the $300 we will consult with you before moving forward with anything.
Will you coordinate with a Home Warranty company?
Yes, you will need to provide us with all the information regarding your home warranty.
Am I required to accept Section 8 tenants?
No.
Is there a minimum amount that I'm required to pay for your services?
Yes. We charge a minimum of $75 to manage your property. This will apply to properties that rent for less than $,1080.00.
Hopefully this addresses some of the questions you have when deciding to hire an Austin property manager. Please don't hesitate to contact our team if we can answer any other questions for you.