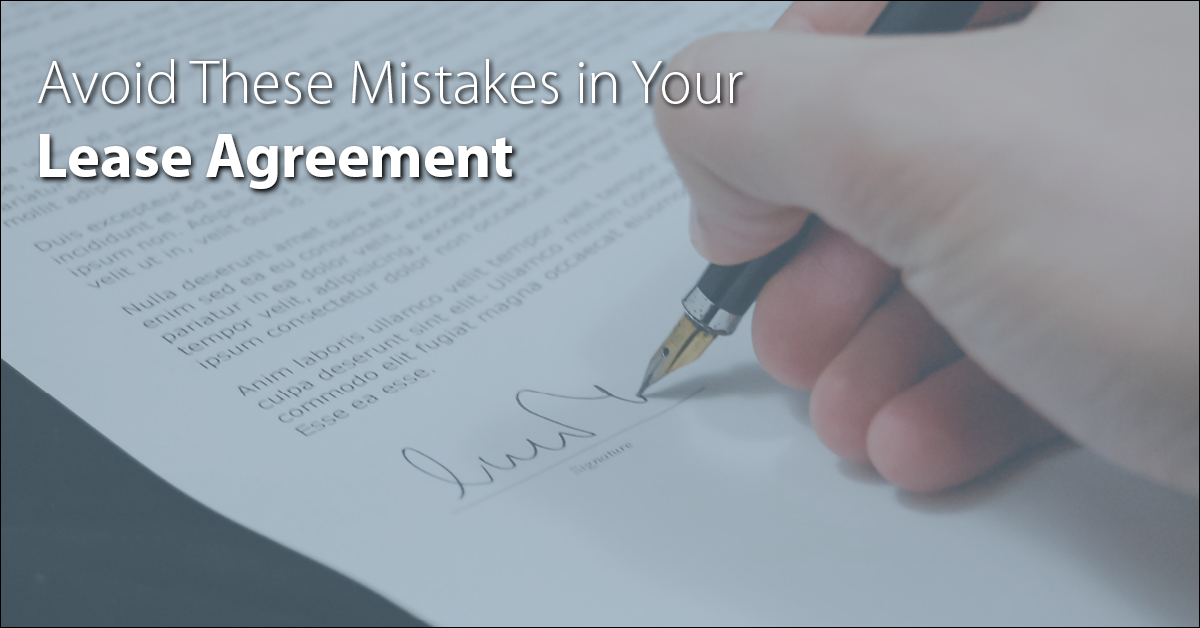 While universal leases are available, such as the Texas Association of Realtors', they can't possibly satisfy every type of lease term and if you own properties you'll know every lease is different.
While utilizing a universal lease form is possible, it's imperative to note that regardless of if you hire a property manager or self-manage your Austin rental property, there will be specifics that need addressing when drafting up a lease with a potential tenant.
As a landlord, there are many factors to consider when filling a vacant rental. If you don't think you have the time, shopping property managers and what they offer can help out big time. When owners get in a rush to fill their vacancies due to shortage in income mistakes can be made in drafting the lease. In this rush to fill the home, dire mistakes can be made in the rental agreement.
Don't let the below errors be a detriment to your property for the entirety of the term.
Not Property Identifying & Vetting the Tenants
Regardless of how obvious this may seem, you'd be surprised how many landlords we hear from whom self-manage and were in a bind with a vacant property at one point. Instead of practicing patience, a lot of these landlords resort to craigslist and the many other available resources to find tenants and seem to place the first individual who shows interest in the property.
You must remember, a rental agreement is a legal document that holds significant weight. You must always refer to the tenants by their full legal names in the agreement. No nicknames, no shortened names – Bob is Robert in most cases, so make sure Robert is shown. Good practice is asking the tenant for their driver's license or identification that will state their legal name.
We partner with Texas Tenant Evictions, and after hearing some stories from our friends over there, we cannot stress this part enough. Failing to do so can result in a tough time in enforcing your lease in the event of a landlord-tenant dispute.
No Due Diligence in Setting Your Rental Rate
A key element, and probably one of the most important to you as the owner, is the rental rate. In most metro markets, rents are on the rise year after year. Failing to do your due diligence on the market and what it will allow your property to rent for is a mistake that is easily avoidable.
This error can cause one of two things – an overpriced rental that doesn't get the traffic it deserves, or an underpriced rental that will lock a tenant in place and earn your less than what your Austin rental is worth.
If you overprice your Austin rental property, the pool of potential tenants can decrease significantly, and your vacancy can last much longer than you'd prefer. If you under price your property, you're hurting your bottom line. A great way to ensure your Austin, Texas property earns the MAX rental rate, is to talk to a Stone Oak Management market expert. As a certified property management company and real estate brokerage, we have access to tools that assist in providing an accurate rate.
It's good practice to re-evaluate your rental rate every time you place a new tenant to ensure you're in-line with the current market trend and receiving the max rate.
Using a 'Cookie-Cutter' Lease Agreement, Instead of Personalizing It
Universal lease agreements are a base model that ensures the bare minimum is covered. While filling in the blanks can get you a tenant, this is a bad idea and one that Stone Oak Property Management discourages. You, or your property manager, should use this opportunity to be as specific as possible. Some examples of clauses to include may be:
Will the tenant be responsible for some of the home's maintenance, and for which ones?
Pets, which ones will you allow or disallow? Will you have pet rent on top of the normal rate?
Tenant's like to feel at home in their new place. What changes are you willing to let them make to the property?
Do you enjoy when your tenants smoke in the property? Probably not.
Personalization is key to a successful rental term, both while it's happening and after the tenant moves out. This is your chance to set some rules and outline the consequences for breaking said rules. However, be sure to follow your state's fair housing laws and the like.
Failure to do so can result in some legal trouble headed your way.
Not Addressing Late Rent in the Agreement
Above, we mentioned that setting the rental rate accurately is incredibly important. It's just as important to address the issue of late rent. Imagine this – your mortgage provider is very lax on when your payment is due. Do you worry about paying that bill on time every month in that case? Maybe, maybe not. The same applies to your tenants. We live in the age of consumerism, and people love to spend their money on unimportant things. In fact, 69% of Americans have less than $1,000 in savings. You need to make sure you get what's rightfully yours and that starts in the lease agreement.
Be sure to include the rental rate, a grace period, late fees, and an eviction process for non-payment of rent in your agreement. In the event you ever run into an issue with your tenant, you now have a legal document backing you up that states both parties agreed to the terms and essentially has your back as the owner.
This is important, as your rent probably helps cover the mortgage on your investment property. Failure to address these key factors in the agreement can set you up for continuous late payments.
Not Setting a Term for the Lease
It's important you set a designated lease start and end date. With this your tenant knows when they can move in and when they have to move out, in the event of non-renewal by both parties.
While it seems easy enough there are a few things that are easily overlooked and can wreak havoc later on down the road. You and your Austin property manager should carefully consider including into the lease.
Automatic renewals – everyone can be a charmer when you meet them for the first time. A year from now? No telling. Avoid

automatic renewals to protect you, the owner.

Instead, consider drafting a month-to-month renewal option into the lease. They are easy to get out of for both parties and

are a safe option for you down the line.

Include a set amount of days that notice is to be given if the tenants want to move out. Failure to do so can allow your

tenants to up and leave at the end of a month with no warning and leave you in a bind with a property earning no money.
Now, these mistakes aren't necessarily the end of the world, but they can provide you with a lot less stress down the road. Your lease is a reference point you or your tenants will refer to in the event of an issue. The more thorough you are in preparing it the better you are covered. A proper lease agreement protects not only you, but your tenants and can satisfy all parties.
If you own a rental property in Austin and need helping drafting a legally compliant, comprehensive lease agreement the contact Stone Oak Management today! Our extensive experience and knowledge of landlord-tenant laws will leave you feeling that you're in good hands.