With COVID-19 affecting the nation and Travis and Williamson Counties on Shelter-in-Place orders, Greater Austin residents have had a drastic change in their everyday life. One thing that comes with being cooped in your home is that, eventually, you'll need more food. Trips to the grocery store don't have the greatest appeal to them right now and HEB curbside is backed up for a few weeks. To spare our fellow Austin foodies, we threw together a list of 8 great restaurants in Austin offering delivery or curbside takeout during these unprecedented times.
Kerbey Lane Cafe
An Austin staple. You have to try the Banana Walnut Pancakes, Kerbey Queso, and Glazed Brussels….maybe not all in the same meal. Kerbey Lane Cafe is offering delivery and take-out service at this time.
Franklin's BBQ
Famous in Austin and typically sold out, Franklin's has closed their dine-in area but are offering Austin residents a curbside takeout option. Craving some brisket or ribs? Franklin's is the spot.
Chuy's
A tex-mex favorite in Austin, Chuy's is offering ATX residents with the option to order food via delivery or take-out. If you aren't getting the creamy jalapeno sauce with your chips and salsa you have been missing out.
Home Slice
Who doesn't love pizza? Austin has no shortage of pizza places that are continuing stay open during this time. We wanted to give a special shout out to Home Slice. With sauce and crust that really set this place apart, don't deprive yourself of a classic Austin pie. Delivery or take-out is available.
Round Rock Donuts
World famous and for a good reason! Round Rock Donuts is a staple pastry shop in Round Rock and has been featured on the food network. It's always a treat when Round Rock Donuts find their way into our office kitchen. They have a drive through so grabbing a dozen classic glazed is quick and easy!
El Arroyo
If El Arroyo had another job they'd be an instagram influencer, but for now they have tex-mex on lock. Not only are they providing Austin residents with great food during this time they also lighten the mood with their comical signs. Right now you can order a 6 pack of margaritas with chips and salsa from their website as well as their regular menu.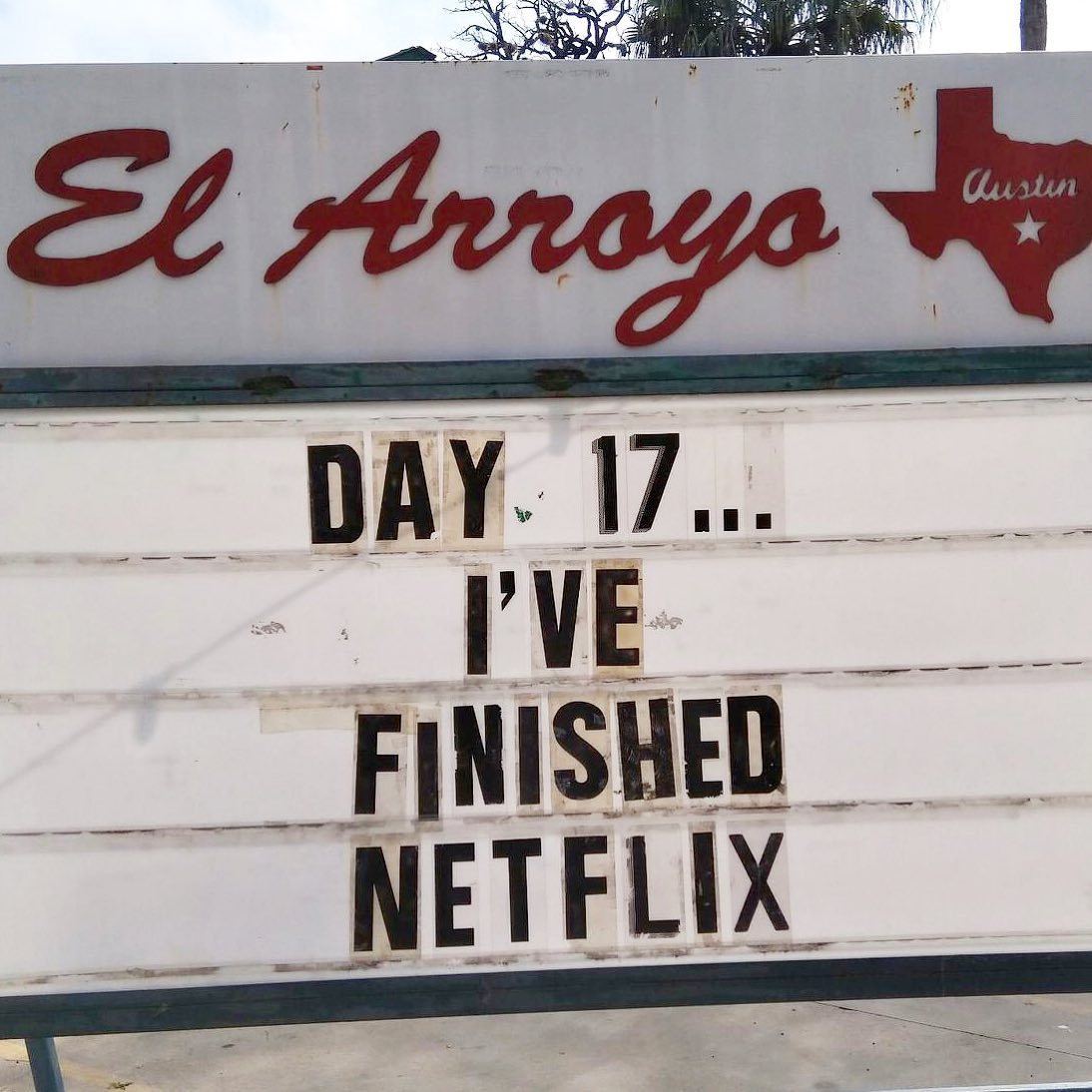 Hula Hut
Hula Hut isn't the same without the sunset view on the deck, but the delicious guacamole and pu pu platters will help us forget that we have to enjoy it inside. You can order pickup through their website or you can order delivery through the Favor app.
Blue Corn Harvest
This scratch kitchen just North of Austin has you covered on all things great food. Try one of the incredible burgers - or any of their other great entrees. They are offering a takeout option during this unprecedented time.
While this list doesn't do Austin justice when you consider the thousands of restaurants in Austin, it should put you on the right track to enjoy some of the foods you love from the comfort of your home. With the impact this pandemic has had on our economy our favorite restaurants need us more now than ever. What are some of your favorite Austin restaurants?